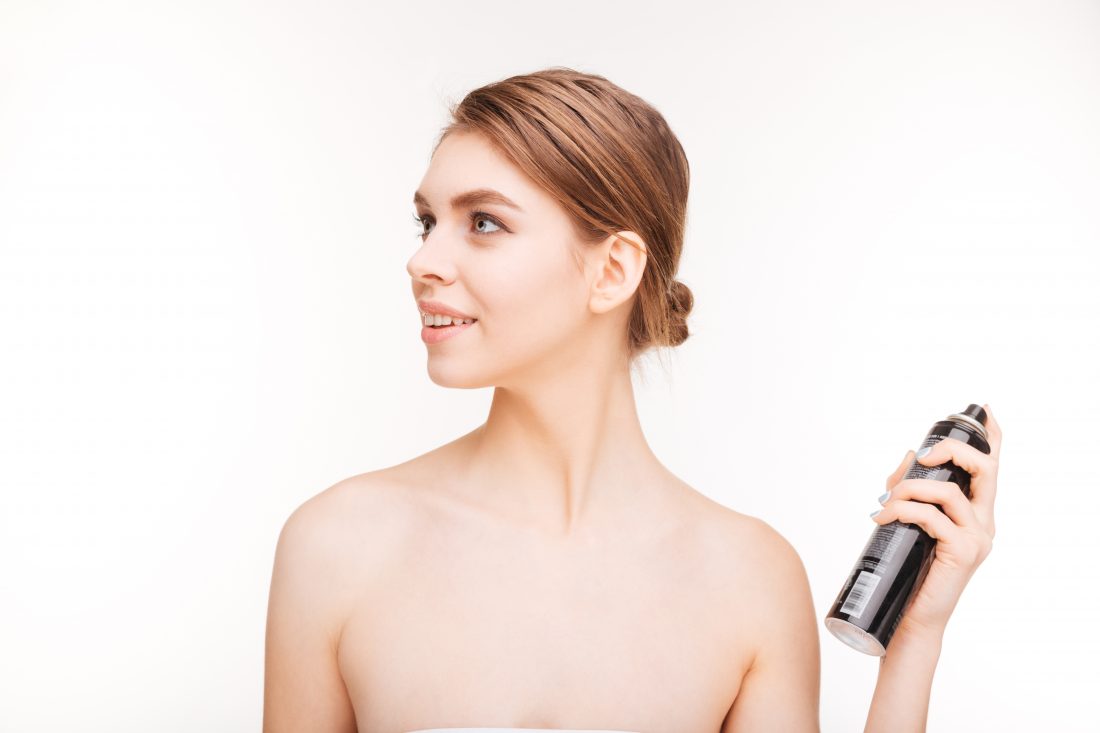 What Does Dry Shampoo Do?
Between trips to the salon, this beauty mainstay is found in our gym bags, purses, and bathroom cabinets. But what does dry shampoo really do and how does it work? 
Your hair care routine is uniquely you. Although we all have differences in hair textures, types, and styling, one product can suit about any hair care routine…dry shampoo. Dry shampoo is shown to be an amazing alternative or supplemental hair care product when the situation calls for it, but not many people know just how useful it can be. 
It's the perfect addition to your hair care routine whether you want to extend the time between washes or a salon blow-out, manage excess oil, or add more natural-looking volume and texture to limp hair, dry shampoo can do it all. Here our hairstylists share a quick crash course on dry shampoo and how it can be your new best-kept secret for your hair… 
What is Dry Shampoo? 
The name 'dry shampoo' is a little deceiving since shampoo is traditionally a cleanser that uses water to wash away dirt and product build up. Dry shampoo is a pseudo-hair savior for many women because it neutralizes greasy roots, extends salon blow-outs and styles, and adds more volume to fine hair.  
The premise of this product is that dry shampoo is meant to treat the roots and scalp by absorbing the oils it naturally excretes. It doesn't need to be washed out. This makes it a great option for when you want to give your hair a break from traditional washes or in certain cases when using shampoo isn't an option.  
In the past, dry shampoo was only found in spray forms. Today, there's a variety of types ranging from mousse, powders, and spray-powder forms, what will work best will depend on your hair type and styling needs. We suggest that you pick a dry shampoo that's a non-toxic product because it is better for you and the environment. Try one with absorbent rice flour among other natural ingredients and shy away from ones with sulfates, or synthetic dyes.  
How to Use Dry Shampoo Between Washes 
The key to using dry shampoo is making sure to use it to treat the roots and not the actual hair. In doing this, you more or less "let the magic happen". This is where the different ingredients such as rich-starch or silica attach to the excess oils, sweat, or other impurities that a normal wash would treat.  
Want a great dry shampoo? No worries, we've got you covered! Shop our salon online! 
The Dos and Don'ts of Dry Shampoo 
Considering that each person has their own hair texture, type, and style, it can be difficult to answer for every instance. For most, dry shampoo can be used as frequently as you choose. 
If you have curly hair, dry shampoo can serve as a life (or scalp) saver! This texture especially needs to maintain the natural oils that your scalp creates. By giving your scalp a longer break between washes, this routine will help to keep your lengths and ends hydrated. 
Here's how to make sure that you are using it properly: 
1. Distance matters. If you're using an aerosol, keep the spray about 6 inches from your scalp (read the individual product recommendations though as it may recommend up to 10 inches away). Spraying too close means you increase your chances of adding too much product to your strands. 
2. Section your hair. Don't just spray and pray, working in sections is the best way to use dry shampoo. Remember to aim for the top few inches but not your scalp. 
3. Dry shampoo dry hair only. This is important: only use dry shampoo on dry hair. If you spray it on wet or damp hair, it won't work properly and absorb excess oil and dirt.
4. Give it some time. Don't just immediately go after anything that appears to be excess product. Give it about 2 minutes to absorb all of the oil and dirt. If you don't, your hair may end up looking greasy and dirtier than before.
5. Spead it out to evenly distribute. After a couple of minutes, you can use your fingertips, brush, or even a blow dryer to help spread it around.  
Sprayed too much? You can get the excess out with as simple as a quick brush or shaking your hair out, and voila, you've just washed your hair…without the chalky-looking build-up. 
Although we love it, make sure to use dry shampoo sparingly. Otherwise, you'll run the risk of having too much product build-up, leaving your hair flat and lifeless. Not a good look. After about 3 consecutive days, reach for the real shampoo. Our stylists recommend using a clarifying shampoo made for product build up or if you have excessive build up and dandruff, opt for a purifying shampoo or mask. 
For Great Hair Care 
The right dry shampoo when used right helps you keep the style but skip the wash day (again, no more than 3). Dry shampoo can truly be a lifesaver when your hair just seems to be on a completely different page from what the day is calling for. Dry shampoo can be a gold mine for when you're on the go. Next time you find yourself in the salon chair – be sure to ask your stylist about some of the benefits. 
Ready for your next salon trip? Hit your hair goals at Tribeca Salons! We follow all CDC guidelines and safety protocols to make sure you feel 100% safe during your visit. Call for your appointment at one of our two convenient Tampa locations at 813-250-0208 (South Tampa) or 813-242-4080 (Ybor) or book online.