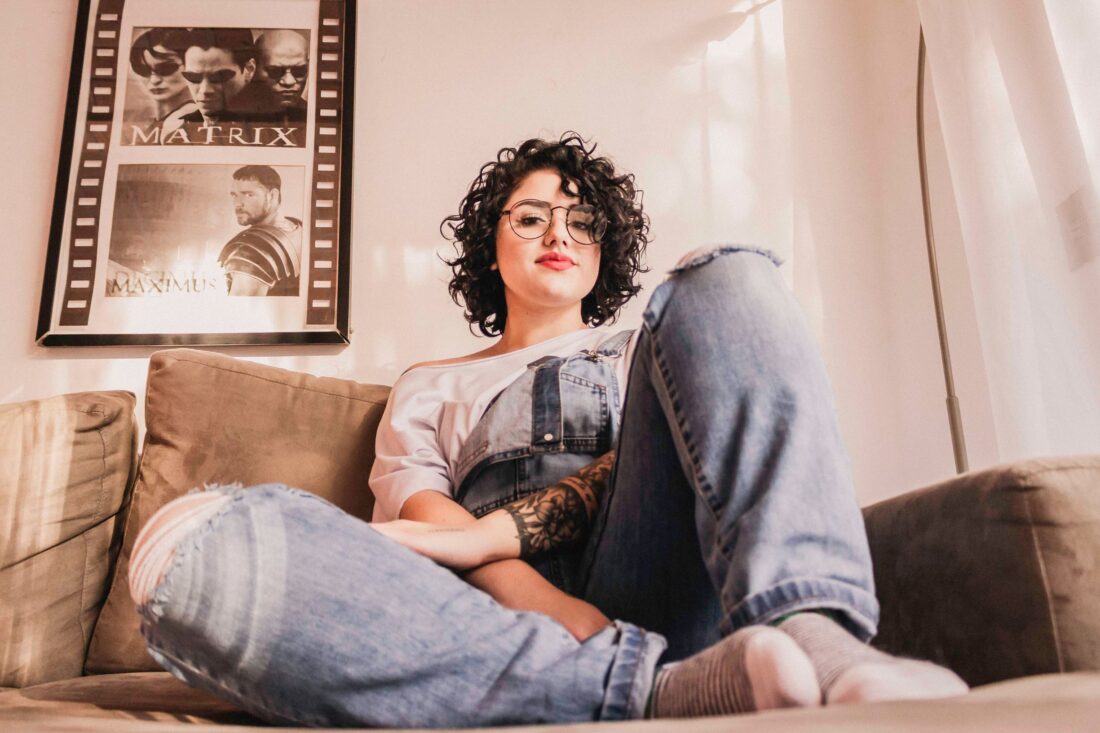 Taking Care of Curly Hair
Curly hair is unique and irresistibly gorgeous when it's healthy and hydrated. If you have naturally curly hair you know it is oftentimes challenging and unpredictable, due to its lower levels of moisture. And while at times you may be envious of your straight-haired friends, you know that when you can manage your hair it's worth all the time and effort. 
Learning what is best for your hair can take a lot of time and trial and error. Curly hair girls have a completely different hair care regimen and it is important to know why. At Tribeca Salons, our hair stylists know curly hair and we want you to feel confident with your natural look. Here are tips to help you take care of your curly hair!  
Tip 1: 
Skip the
 Daily Shampooing
For proper curly hair care, you'll want to keep your shampooing to a minimum. Now, this advice might sound completely different than what you heard growing up. 
Curly hair tends to dry out easily, so if you do shampoo your hair daily it will suck out all its natural moisture. Frequent shampooing can stretch and stress out hair strands and dry out your curls. 
Tip 2: 
Make 
S
ure to use the Right Shampoo
Shampoo is not a one-size-fits-all product, especially when it comes to curly hair care! Using the right shampoo for your hair type will make a world of difference.  
It is important to stay away from products that contain sulfates (those are the cleansing agents that are responsible for making the lather in the shampoo) as they strip and dehydrate the oils in your hair strands and make your hair brittle and frizzy. 
It is extremely important to have a product that will hydrate your hair instead of dehydrating it. Make sure to choose a shampoo that is free of other toxic chemicals, such as alcohols and parabens.  
If you need help finding the right shampoo, our stylists at Tribeca Salon will be more than happy to find the perfect product for your curls! 
Tip 3: 
Condition, condition, condition!
While it is recommended to lay low on the shampoo, you should do the opposite with the conditioner! 
On days you skip the shampoo, you can still apply the conditioner in the shower. Additionally, you can apply a conditioner outside of the shower. Textured curly hair needs long-lasting moisture, and a lightweight leave-in conditioner will help protect your strands by forming a protective barrier against UV damage, frizz, and breakage as you go about your day. 
You can also apply a hair mask or conditioning oil to your hair. Leave in the conditioner for 20 minutes and rinse when you are done with lukewarm or cool water. Make sure to rinse when you are using a protein conditioner versus a moisturizing conditioner, as the formulas could cause your curls to become brittle and break if left too long in the hair. 
Tip 4: 
S
kip 
t
he Hot Showers
Who doesn't love a long, hot shower? Well, specifically your curly hair does not!  
Hot water showers can open up the hair cuticles making your hair more prone to frizz and breakage. Hot water can also strip off the natural oils from your scalp and hair. 
So the next time you shower, make sure to turn down the heat. This will ensure you keep those cuticles shut, which in turn will lock in moisture for shinier hair and less frizz! 
Tip 5: 
K
eep
 Brush
ing 
t
o 
a 
Minimum
While your straight-haired friends may brush their hair frequently, when it comes to curly haircare, it's better to limit brushing and detangling post-shower. Then post-shower, follow up with a leave-in conditioner to keep your curls on point! 
You'll also want to choose a wide-tooth comb over a fine-tooth one on curly hair as it is the easiest way to disrupt your curl pattern. This can result in your strands turning into a giant, unruly mess on your head! 
Remember: don't brush your hair when it is dry. This will only cause your hair to frizz and break, causing damage. If you want to "brush", use a wide-tooth comb in the shower while you condition your hair and gently comb and detangle your curls from the ends to the roots until you are knot-free.  
Tip 6: 
Sleep in S
ilk
Haircare is a 24-hour job. Make sure to protect your hair even while you sleep.  
Switch out your cotton sheets and pillowcases for silk or satin. Cotton soaks up your hair's natural oils, which in turn deplete it of moisture. It also causes friction, damaging the curls. Silk or satin will keep your curls intact without any tangling. Depending on your texture and curl pattern, you can also choose to wrap your hair in a satin scarf or bonnet. 
Tip 7: 
Make sure to get your curls cut regularly
Our last tip for curly hair is to make sure you get your hair trimmed every 6-8 weeks. By getting rid of split ends and damaged hair, your curls will look and feel healthy. Book your appointment with our Tampa, FL hairstylists today to have your hair look its best! 
At-Home 
Curl Care: Styling Products 
and
 Drying
With curly hair, after you shower the sooner you can set your curls the better. Styling products should be added when your hair is damp to help keep frizz at bay. When you apply, make sure to not rake through your curls, as this can cause frizz and damage.  
Air-drying is the best choice for curly hair, but if you want to blow-dry your hair you will need to keep in mind these two things: 
Use a diffuser attachment. This will help limit the amount of direct heat and the amount of forceful air hitting your strands.

 
Use moderate heat. Remember, as with the hot water, you do not want to dry out your hair, open your cuticles, and damage/frizz your hair with a hot-aired blow dryer.

 
Tribeca Salons Knows Curly Hair
Taking care of curly hair may feel like a high maintenance full-time job, but once you establish your hair care regimen and get confident in your curls you will soon see smoother, shinier, and more intact curls! 
Whether you need help taking care of your curly hair or just need your regular maintenance trim, our stylists at Tribeca Salons would LOVE to work with you.  
We have two convenient Tampa locations, one in South Tampa (813-250-0208) and one in Ybor (813-242-4080). Your curls deserve to have the entire spotlight!