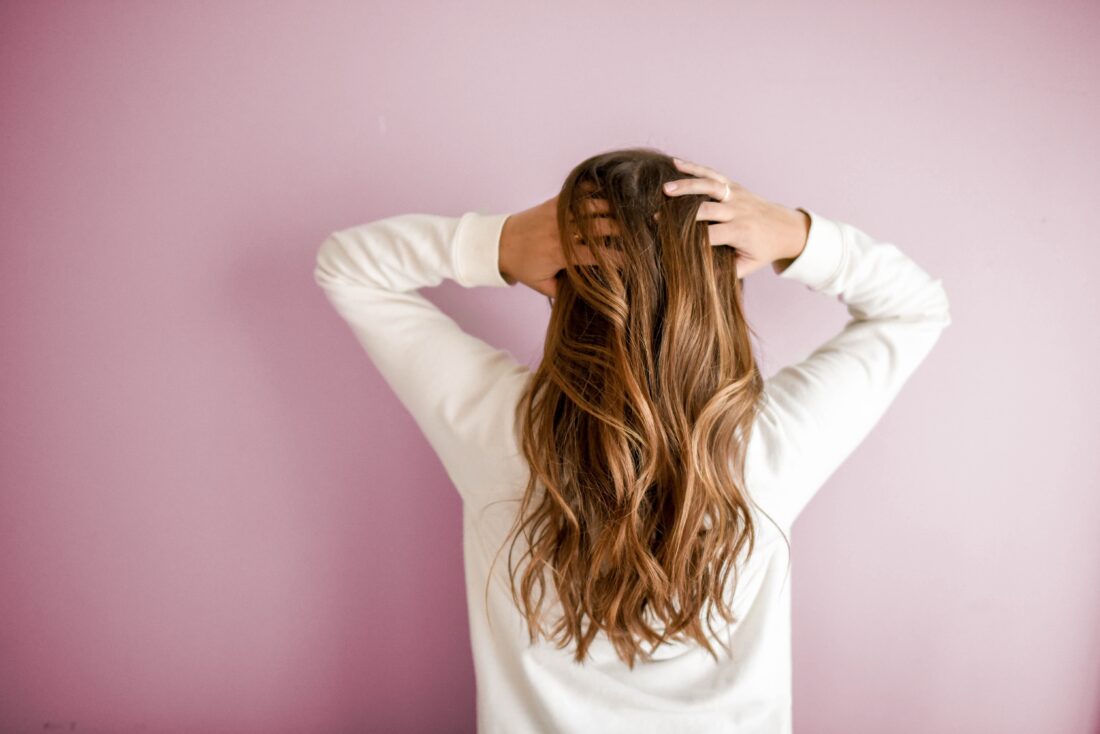 What Does a Healthy Scalp Look Like? 
The health of your scalp directly correlates to the health of your locks, and the skin on your scalp needs lots of TLC to stay healthy. Tending to your scalp just takes a few minutes during your shower routine, and can be the difference between dull lifeless hair, and fuller bouncier hair that is flake-free and full of shine.  
What does a healthy scalp look like? Keep scrolling as our expert hair stylists discuss how to keep your scalp healthy and happy between salon visits… 
Healthy Hair Starts with a Healthy Scalp
Your scalp is the foundation of a good hair day. Considering that your hair covers your scalp, it can be hard to figure out whether your scalp is at peak health or if it is in dire need of some love. It's very important to maintain the health of your scalp because this is where your hair follicles are, and where your hair starts to grow. 
A healthy scalp should not have any redness or dryness and should be free of flakes or any signs of infection. Your scalp should look clean, smooth, and moisturized with no dryness on the surface. If you are experiencing any itchiness, irritation, or burning, this can indicate that your scalp is unhealthy.  
If this is you, don't worry! Even those who are suffering from scalp psoriasis or eczema can have a healthy scalp with the right treatment.  
Don't live with a dry, unhealthy scalp anymore! Call our Tampa area salons for a consultation to see what changes could be made in your hair care to help your scalp recover and be healthy! We aren't doctors (we're 5-star stylists), but we love helping do what we can to give you great hair. If the solutions we have available pertaining to hair and scalp care, won't suit your hair goals we may recommend a visit to a dermatologist for psoriasis, eczema, or more severe hair loss.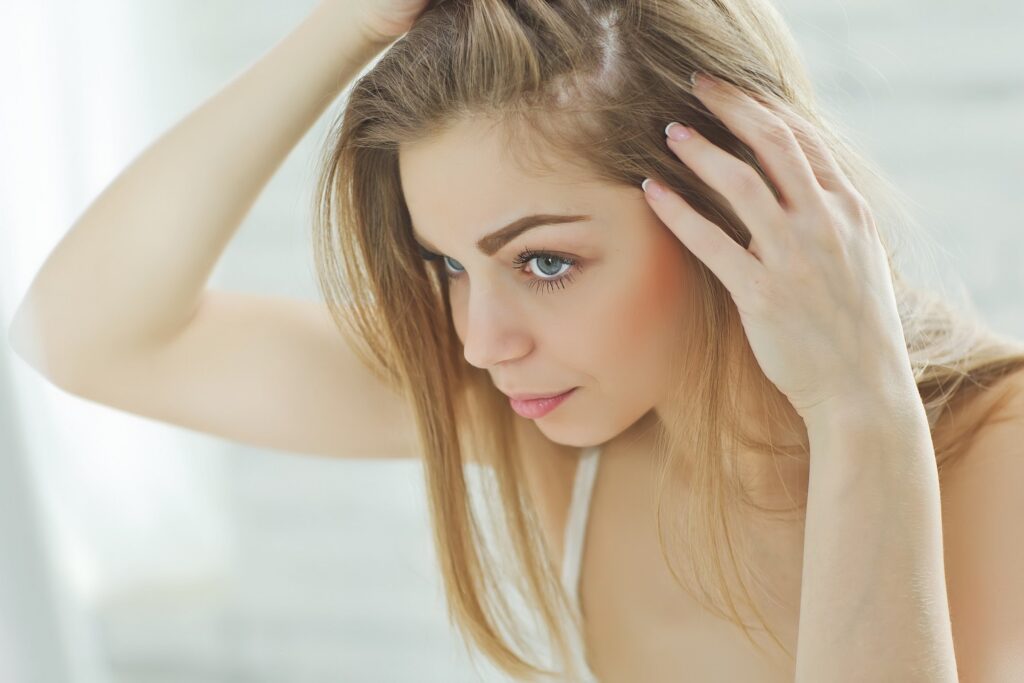 Common Scalp Health Concerns
Dry & Itchy 
Dry scalp is caused by irritated skin flaking off and can be exacerbated by cold weather, dry air, allergic reactions, or contact dermatitis from the products that you use such as shampoo, hairspray, and conditioner.  
Dandruff Flakes 
Dandruff flakes are skin cells that are white or yellowish in color and are often caused by having too much oil on your scalp. This excess oil can cause skin cells to build up and then shed. Dandruff could also be the result of a scalp disorder like psoriasis or eczema.  
Other causes of dandruff include not cleansing your scalp enough, stress, hormones, age, and temperature changes. There are shampoos and treatments that can help with dandruff. Look for a shampoo with Tea Tree oil in it, this helps combat those pesky flakes! 
Excess Oil & Product Buildup 
Product buildup happens when you don't cleanse and wash your scalp enough. Can't remember when you last washed your hair and been using dry shampoo every day? This could be the issue!  
This has an easy fix: incorporate a clarifying shampoo into your hair regimen. Apply it directly to the scalp and massage it into your hair and scalp to gently remove any product build-up on the scalp. Goodbye, oiliness! 
Too Much Scalp  
If you see too much of your scalp peeking through your hair, you might be suffering from hair loss. This happens when hair follicles slowly shrink up, causing the scalp to become dry and damage the hair follicles even further. Hair will gradually become thinner, and then ultimately stop growing altogether.  
Hair loss can be caused by hereditary factors, hormonal fluctuations, and even aggressive styling techniques. The good news? Most non-scarring forms of hair loss caused by medication, illness, or dietary changes can be temporary, and once your body is back in balance, your hair should grow back.  
Dealing with hair loss or a dry flaky scalp? We can help! Call us to arrange a complimentary consultation to determine the correct treatment for your specific scalp situation! Tribeca Ybor: (813) 242-4080 or Tribeca South Tampa: (813) 250-0208. 
Best Products for a Healthy Scalp
No matter what scalp concern that you might be dealing with, or even if your scalp is healthy, regular treatments can keep your scalp as healthy as it can be. Try one of our favorite scalp products to help promote healthier and shinier hair from root to tip! 
A revitalizing, detoxifying anti-oxidant mask for a healthy scalp and hair.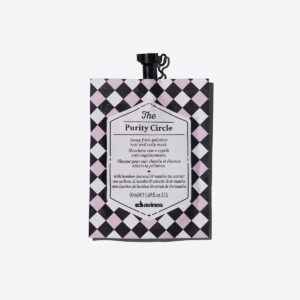 Dealing with an itchy, dry, or flaky scalp? Use a scalp scrub! This can even help with mild psoriasis breakouts and a lackluster scalp. This scrub provides a deep but gentle cleanse that will remove impurities and leave your scalp clean sans flakes!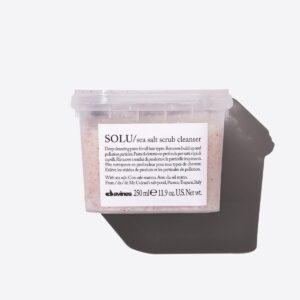 Zenagen Revolve Hair Loss Shampoo Treatment For Women 
Dealing with hair loss can be traumatizing, but Revolve Thickening Therapy can help! It treats hair loss by targeting DHT, the hormone that causes hair loss. By removing existing DHT, it stops its further production so that the hair follicle can grow back thicker and healthier.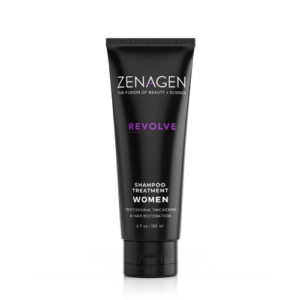 Give body to your stressed-out hair with this moisturizing and invigorating gel that also has a balancing action on the scalp.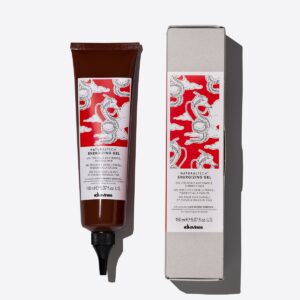 At Tribeca Salon, we are committed to helping you have AMAZING hair, which starts at the scalp. Contact us today for more information about scalp treatment products from Davines, our favorite hair product line!  
H
ave H
ealth
ier
, Shiner
Hair
 – And a Healthy Scalp
If you are dealing with lackluster hair, your scalp might need some TLC. Our expert stylists at Tribeca Salons can help get to the root of your scalp issue and suggest products and treatment options to give your scalp the love it needs.  
Remember: healthy hair grows from a healthy scalp. Let our stylists help you on your journey to healthy fantastic hair! We are ready to help you have the best hair of your life at our two Tampa, FL salon locations: Tribeca Salon Ybor City: (813) 242-4080 or Tribeca Salon South Tampa: (813) 250-0208.