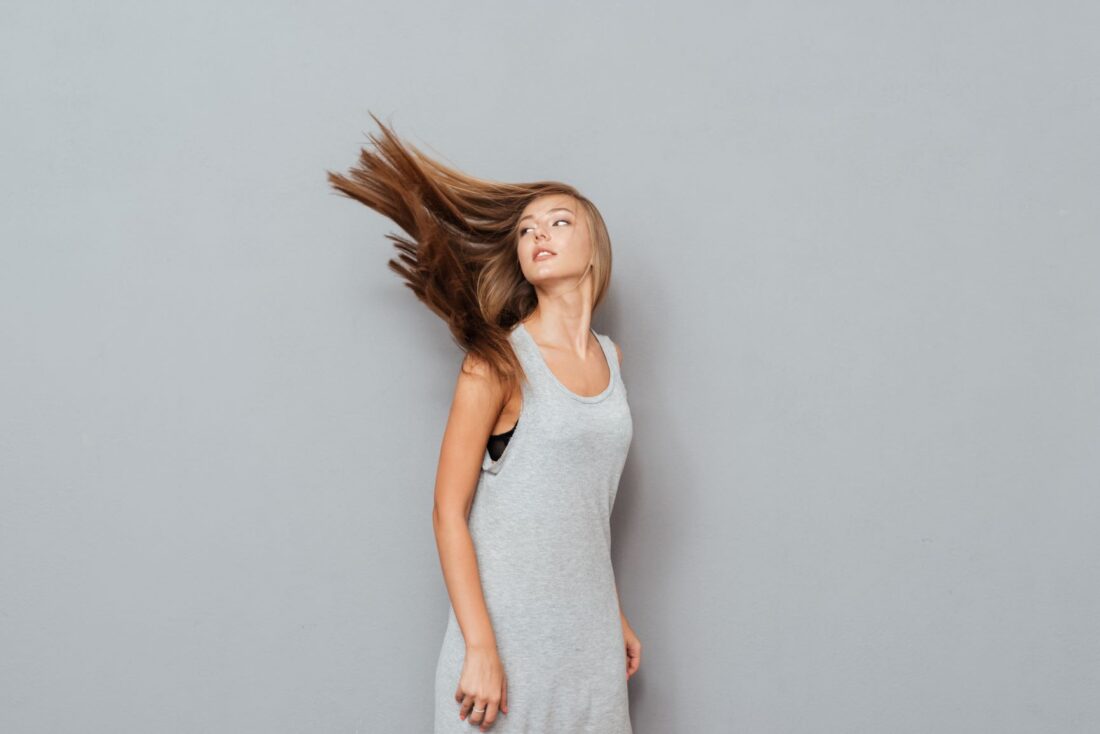 Which Should Come First: Cut or Color?

Wondering s
hould I cut or color my hair first?
Our hairstylists give tips to help you know which. 

Congrats on deciding to take the color plunge! Now, do you need a cut too? Should you do one then the other? When you dye your hair, in most cases, you should get a haircut or trim before you color. Of course, there are some situations when you should choose a color first. Let's look: 

Choosing 
to Cut First

Here are some times when it makes sense for us to cut your hair before we color it: 

Your Hair Feels A Little 
Dry & 
Damaged
Are your strands feeling stressed? Around here, we spend a lot of time in the sun. But too much sun exposure to the sun can cause your hair color to oxidize – which will make it look dull. Not a look anyone likes…Plus, sun and/or heat styling can also make your hair dry and cause split ends.  
If you've been in the sun all summer long or it's been a while since your last cut, have your stylist do a dusting of the ends to give you a refresh. This means we'll apply the new color to the healthiest parts of your hair. 
Opting for a Completely Different Haircut 
or
 Adding Lots 
of
 Layers
Going for a totally different haircut means it's good to decide on a style before you color. Knowing your goals will help your colorist know what to do with your new hair color.  
Removing lots of length also helps with a smoother color application. Remember: healthier ends help your follicles take the color more easily than untrimmed hair. 
While cutting length off is one reason to cut before color, another is when you want to add layers. Where your layers are will determine where the highlights or hair dye will be applied. After a layered cut, the different angles of the layers, particularly the bottom section that are usually hidden will show off the color as your hair moves. 
You
 Want S
ubtle Highlights
, Not All Over Color
If you're thinking of trying balayage, for the best results, trim your hair before you highlight. A trim will help your colorist decide where to place your new highlights. Why paint on stunning highlights just to cut them all off?  
A fresh cut gives you a better feel for where the highlights should go. Bonus: you won't have to process as long which helps protect your overall hair health.  
When
 to Color
Your 
H
air 
Fi
rst
Transitioning To A 
S
hort Hairstyle
For shorter hairstyles like a blunt pixie or a lob, it can be easier to dye your hair before you cut it all off. Removing length means there's a lot less to work with and we can section hair for color easier. The shorter you go, makes sectioning more challenging.  
Applying hair color before a haircut makes it so much easier to section while coloring, prevents color overlapping from one section to another, and gives you a great final cut and color.  
When You Want to 
Lighten Up
Your shade that is…Dying your hair lighter can potentially damage your hair. That's why our stylists suggest you lighten first then trim away the unhealthy ends after. After color processing, your stylist at Tribeca Salon can determine how much hair should be removed based on the condition of your ends.  
Achieve Your Dream Style at Our Tampa Hair Salons

Ready to have a new cut or color? Schedule a salon appointment at Tribeca Salons. Our stylists know exactly what to do. We'll talk about your hair and style goals to figure out exactly what you want. This will help make the decision much clearer.  
Have a question for our Tampa colorists? Don't hesitate to join the conversation on Instagram or call our concierge team today at one of our local salons. Remember: now, you can also order your own custom hair color to do at home from our online store. Visit Fabric Hair for a virtual consultation and perfectly suitable color! Call today! South Tampa: 813-250-0208  Ybor: 813-242-4080