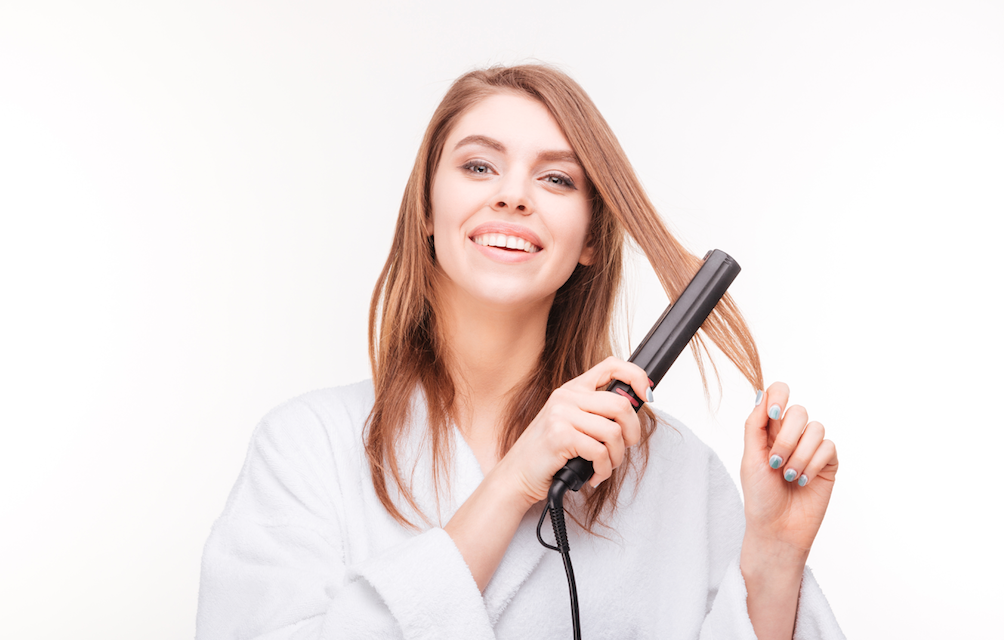 Avoiding Heat Damage with a Flat Iron
At Tribeca Salon, our hairstylists are all about keeping your hair healthy while achieving the glamorous look you desire. Learn how to work the magic of a flat iron without the adverse effects of heat damage to your precious locks. We've compiled a list of some tips and tricks for you to attain that silky smooth hair that doesn't compromise your healthy locks in the process.
Flat Iron Clean & Conditioned Hair
Styling product residue and dirt could fry on your hair if you apply heat to unwashed hair. So, before you start heat straightening make sure your hair is clean and adequately moisturized.
Defend hair against heat damage by forming a protective layer of a leave-in conditioner which will fortify your hair with moisture. Applying to freshly shampooed, damp hair before styling.
Fight Heat Damage with Heat Protectant Products
It is wiser to take proper precautions before flat ironing to prevent irreversible heat-induced damage to the hair. When your hair is not sufficiently protected the same styling tool that gives you that desirably sleek look can cause irreparable damage to your hair.
Everyday heat straightening can deprive your strands of the essential moisture that keeps them elastic and nourished. This is because flat irons use your hair's natural internal moisture. Your hair's cuticle layer is at risk when applying extreme heat and this makes your locks porous and can result in split ends and frizz.
Heat Protectants are formulated to prevent moisture loss and to add a layer of protection that saves the hair shaft from overheating during heat styling. Clean, damp hair is best for the application of a heat protectant like HEATED.DEFENSE, where it can absorb into the hair shaft.
Completely Dry your Hair Before Styling
When your hair is wet it is very fragile and susceptible to damage. Flat ironing wet hair can result in "bubble hair" unless you are using a wet-to-dry flat iron.
Instead of blow-drying it before flat ironing, let your hair air dry to reduce the amount of heat you must apply for styling. Make sure to thoroughly dry it with a highly absorbent towel first if you must blow-dry your hair.
Select Appropriate Heat Settings
Be sure not to apply more heat than necessary. To turn down the heat use a flat iron with a heat adjustment feature. Adjust the heat level according to your hair condition and texture.
This temperature table should help you match up with your hair texture:

If you smell strands burning, hear sizzling, or see creases being created by the heat, you have your setting up too high.
Sectioning Your Hair & Keep your Flat Iron on the Move
Divide your hair into at least four sections for an easier and more efficient straightening process. Straightening too much hair at a time may require extra passes which will increase the chances of experiencing heat damage.
Reduce heat damage and don't let the appliance sit in one spot for more than 3 seconds. To lessen the chances of heat damage, take a small break between passes if you need to go through the same section more than once.
Invest in a Quality Flat Iron
A professional-grade flat iron with ceramic plates that are tourmaline-infused to distribute heat evenly and seal the hair cuticle.
A combination of heat and vibration is used with Vibrating Flat Irons to keep hair gliding smoothly through the plates. This type of flat iron works best on coarse or thick hair.
No matter what your hair texture or type, we all want healthy shiny hair! The style specialists at Tribeca Salons are here to help. Book a consult at our South Tampa or Ybor Salon (or visit our new Seminole Heights location opening soon)!