Wedding Hair Trends for 2021
You're getting married! While it is such an exciting time, there are so many decisions to make (and so little time!) – from the ceremony to the reception, the dress, and of course, the hair. While we can't help you pick out the flowers, we can certainly provide inspiration for your hair! From ultra-glamorous to glowy and natural, here are some of our favorite wedding day hairstyle trends for 2021.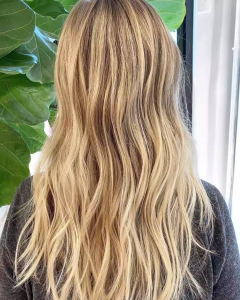 Lived-In Textured Waves
Over the past year, we've become more accustomed to natural textures, so finding a balance between relaxed and refined is going to be big in 2021. At Tribeca, we love lived-in texture hairstyles such as long, tousled waves – a perfect way to elevate your natural look.
Textured Updos

If you still want to accomplish a textured, natural look, but prefer an updo over down and tousled, a modern take on the bridal updo is the way to go.  Instead of tight and sleek, we love a loosely pinned look with small pieces framing the face and nape of the neck.

Adorning Accessories
For the past couple of years, hair accessories have been crazy popular for everyday looks, so it comes as no surprise that this trend is making its way down the alter. We love the extra-special, embellished touch of pearls or vintage hair ornaments paired with a high and tight updo or a statement headband for the fashion-forward bride.
Hollywood Glam
For a feminine and romantic wedding day look, we love anything inspired by Hollywood-glamour – a timeless look that is intended to wow a crowd. To make Hollywood-glamour hair truly special, we love a long, wavy hair accessorized with a modern touch such as tiny flowers placed throughout the long beautiful, glamorous waves.
Party Pony
Another trend we expect to see this wedding season is the party pony – whether it be for both the wedding or for a fun party look at your late-night reception. We love this casual but chic look that works on anyone and can be placed low, high, or in the middle.
Braided Hair
A wedding hairstyle trend that will continue to stay strong through 2021 is long braids. From French braids to loosely braided crowns, to braids incorporated with half up half down hairstyles, there are so many stylish ways of using braids on your wedding day! They're also super fun to accessorize! Add flowers, vintage pins, embellished clips, and more.
Want to nail the perfect wedding day hairstyle? Tribeca Salons can help! Call to schedule your appointment for a Tampa wedding day consultation at one of our two convenient Tampa locations at 813-250-0208 (South Tampa) or 813-242-4080 (Ybor) or book online.