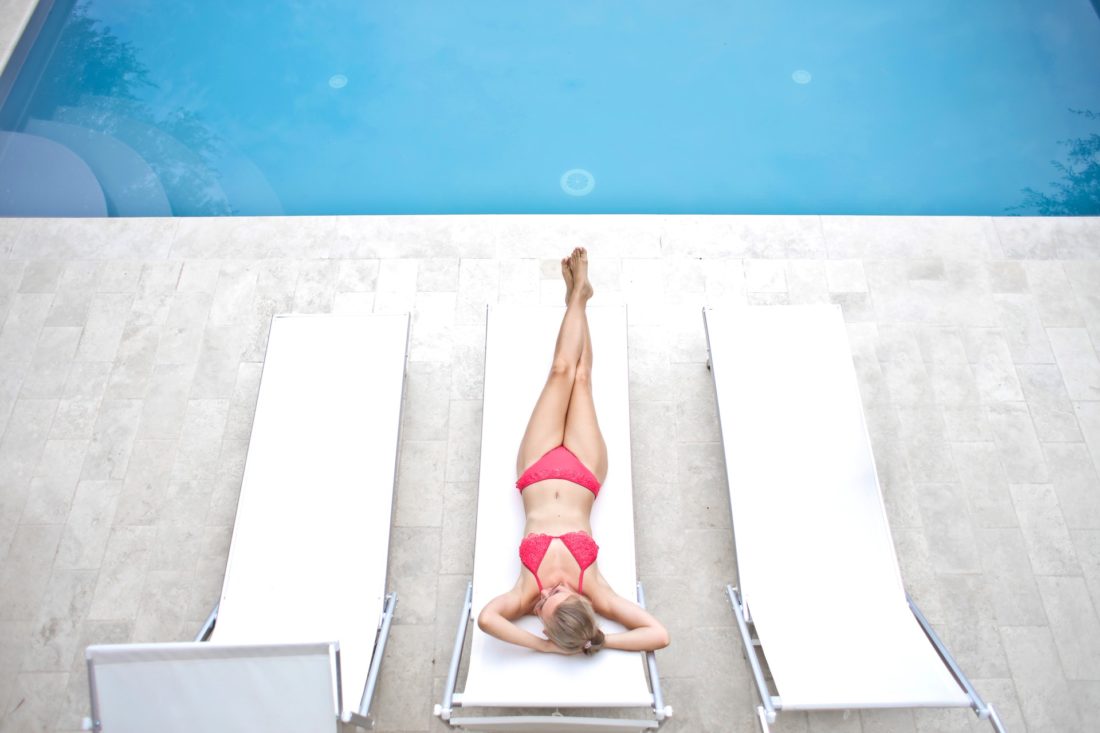 Pool Day Hair Care (Beach Day too.)
Oh, summer. The lazy beach days and Sunday Fundays by the pool. If you're concerned about losing your color or damaging your hair this summer, these easy hair care tips for before and after swimming should keep your hair in sleek shape. Trust us, you'll live by these pool-day hair care tips here in Tampa!
BEFORE SWIMMING HAIR CARE
Make sure your hair is protected
Seawater, because of its high salt content, sucks moisture out of your hair, leaving the cuticle of your hair dehydrated, rough and brittle. Chlorine isn't known for its benefits to your locks either.
If you're sunbathing, use a hat or hair product with SPF. Our stylists recommend slicking a small amount of coconut oil before getting your hair wet. The oil helps protect hair from chlorine-induced protein loss. Conditioner like Kevin Murphy's Hydrate.Me rinse will help your hair. Think of it as a damage force field.
Style against the wind
Those Tampa Bay winds can be killer – especially at the beach. We recommend putting your hair into a protective style. Whip your long hair into a braided bun to fight tangles this summer; it's a fun take on the usual bun. No matter what style you choose, you'll be glad you kept the chaos at bay.
Cap out the chlorine
Use a darling vintage-styled swim cap. Just tuck your locks safely up inside and play the glamour puss while avoiding hair trauma by the beach. Show us your cute caps on Instagram @TribecaColorSalon!
AFTER POOL HAIR CARE
Wash away the trouble
For happy hair throughout summer, your best bet is to rinse hair with fresh water immediately after getting out of the pool or ocean.
Chlorine sitting on your hair all day and baking in the sun is a surefire disaster for blondes or anyone currently with chemical damage. It's best to rinse ASAP or wash with a clarifying shampoo like Fabric Hair Care's Suede Wash.
Use a wide tooth comb or Wet Brush
Brushing wet hair is begging for trouble. Use a wide tooth comb or Wet brush and gently work your way through tangles. The wide teeth help fight frizz and strand breakage.
Don't forget the leave-in!
After rinsing or shampooing, give your hair some moisture and lasting love with a conditioning treatment. Your hair is going to be extra thirsty after time spent at the beach, so a hair mask like Velvet Reupholster is perfect. Your hair will thank you for this moisture-infused conditioning treatment!
If you have any hair woes, the expert stylists at Tribeca are here to rescue your hair. We're conveniently located in South Tampa and Ybor City. Now get out there and enjoy the water!