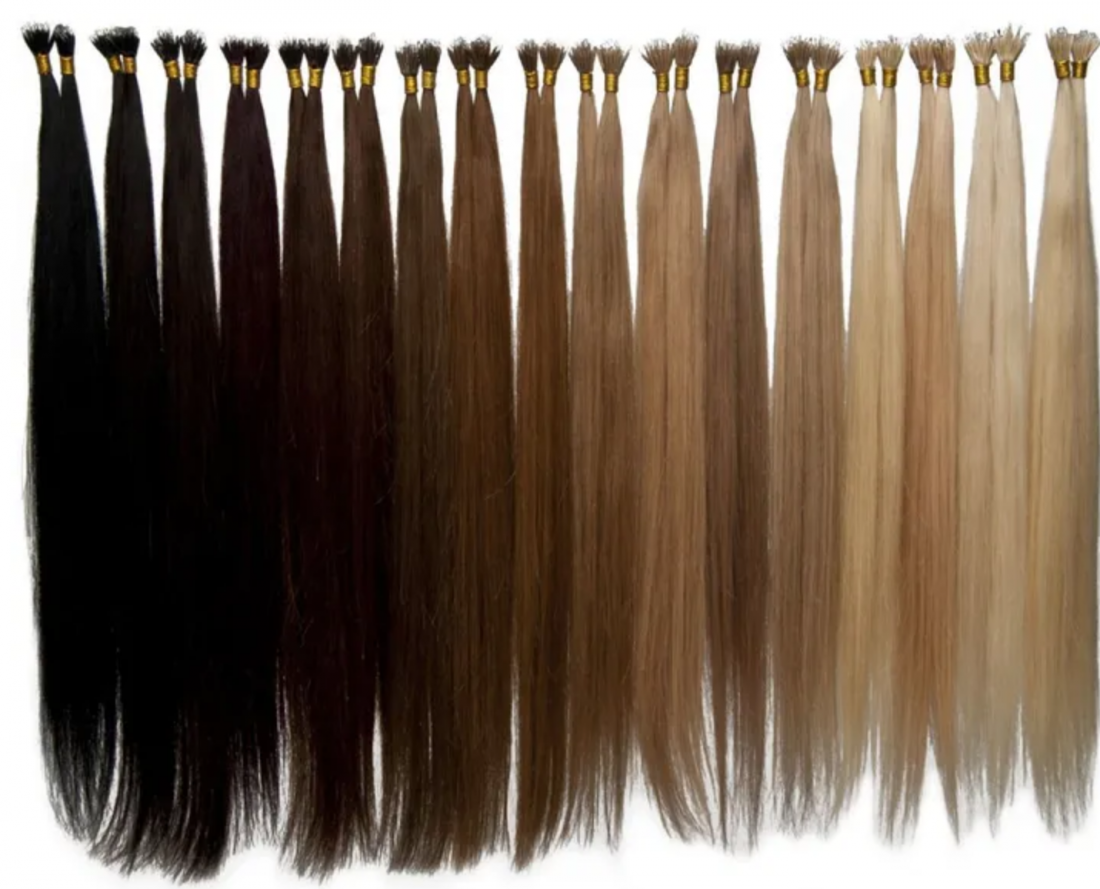 All About Hair Extensions
Do you dream of having long, flowing locks but your hair doesn't want to cooperate? It's possible with a little help from hair extensions! At Tribeca Salons, we've got you covered with our expert hair extensions services that include perfect installs in a variety of lengths and colors. Keep reading to learn more…
Types of Hair Extensions
Because each hair extension system works differently, we offer three types of hair extensions – hand-tied wefts, seamless and micro rings. The type of extensions you use is based on your specific needs and hair type.
Hand-Tied Wefts
These adhesive-free extensions are the newest installation method and the most popular with our clients. They involve hand-tied wefts that distribute the weight of extensions to eliminate damage and allow a natural dispersion of volume and length. All Tribeca stylists are certified in this technique.
How It Works: Fine hand-sewn wefts are placed across the interior of your hair with small tabs to blend seamlessly with your hair.
Seamless Extensions
This revolutionary new extension system blends seamlessly with existing hair and is a great option if you want to completely transform your look and want it done quickly! The entire process takes about an hour to install and can last up to four months.
How It Works: Using surgical-grade adhesive materials, the extensions are connected directly to your hair with no mess or heat required. Depending on what type of brand you choose, the hair can be used for up to a year and a half with periodic tape replacements. Based on the brand you choose, seamless extensions (install and hair products) cost a flat fee based on your needs.
At Tribeca Salons, we offer three brands of premium seamless extensions:
Thicken: Our most reasonably priced brand of seamless extensions, hair can be reused just one to two times with proper maintenance.
Hair Art: Our mid-range product with slightly better texture and more color choices. Hair can be reused two to three times with proper maintenance.
Invisi-Tab: The Cadillac of hair extensions called "European" hair. There no chemicals are used to alter the color, all hair is in its original, natural state, and can be lightened, darkened, and curled without damage. With proper maintenance, hair can be reused up to three to four times.
Micro Ring Extensions
Micro ring extensions are a perfect option if you have medium/ normal hair and want to add volume and length to your natural hair. They are not as long-term as seamless extensions and are prone to slipping if you have a naturally oily scalp.
Besides the costs of the installation & removal, we recommend that you purchase the necessary tools and products to maintain your extensions. Don't want to purchase these products? You don't have to, but you will void the service warranty on your hair extension install.
How It Works: Micro ring extensions are attached to the hair with small metal bands and can last up to three months. Hair can be removed and reinstalled periodically, however, we highly recommend this is done by a Tribeca Salon hair extension expert. The process takes anywhere from two to four hours depending on how long the extensions are and how many are being installed.
Get the hair you've always dreamed of at Tribeca Hair Salons!
At Tribeca Hair Salons, not only do we provide expert Tampa hair extension services, but we also provide an at-home action plan to take care of your brand new hair (we mean extensions). We want you to love your look and we want it to last!
Interested in learning more about hair extensions and which type is right for you? Book an appointment for a free consultation at our South Tampa, Ybor, or Seminole Heights hair extension studio!