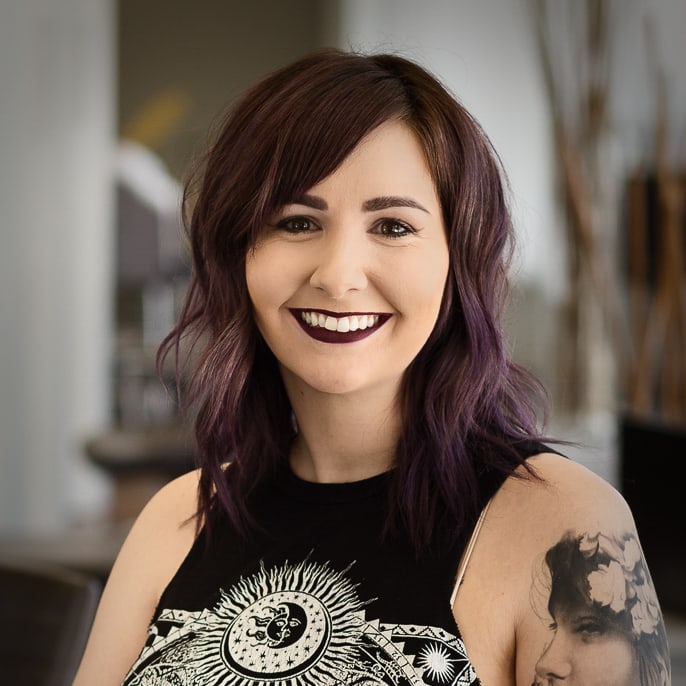 Meet Your Tribeca Stylist™ — Justine
Colorist + Stylist
Maestro 2
Originally From 
Zephyrhills, FL
Education
2010-2011 —  Paul Mitchell: The School Tampa 
2015 — Paul Mitchell: Barbering Program
Personality in Three Words
Quirky, Methodical, Kind
Works Best With 
All hair types. 
Coloring Specialties 
I would say I love doing balayage highlights. I specialize in blended balayage that can be worn both smooth and curled. Aside from blondes, I love doing warm, brunette balayages that compliment clients with naturally darker hair. Whatever is going to perfect my client's current style is what I gravitate towards.
Cutting Specialties 
I specialize in adding texture to haircuts, both short and longer styles. I love giving body and movement to haircuts through different texturizing techniques. I also specialize in transitioning clients growing out their hair. Aside from that, some of my favorite haircuts to do include grown out pixies, faded clipper cuts, and textured bobs.
Celebrity Fashion/Hair Inspiration 
Jennifer Lawrence and Michelle Williams are my go-to girls for hair. I've always been obsessed with Michelle Williams' icy, overgrown pixie. Jennifer Lawrence has had so many looks over the years and they always seem to be on trend. For fashion, Blake Lively is my favorite. She always looks classic and then adds in some edgy piece to make her look pop.
Additional Training/Classes
I've taken advanced classes in both cutting/color with Kevin Murphy, Paul Mitchell, and Aveda. Color classes with Schwartzkopf and Fabuloso. I attended a razor cutting class with Jon Reyman who represents the Aveda Advanced Academy in NYC.
Why You Wanted to Become a Hair Stylist
Around the age of 16 I realized I was in love with hair salons. My mom took me to a high-end, trendy salon for my birthday and I was obsessed. I love how creative and fun it is to work as a stylist. After working as a stylist for some years now, I love that I am continuously challenged to keep up with trends and keep my skills up to par with my clients expectations. It's a highly fulfilling career.
Best Thing About Tampa Bay 
I think Tampa is special, because of all the different districts and neighborhoods. No matter what kind of night someone is looking for, they can find it here. We have some amazing, local businesses here that are actually crazy successful. Tampa already has a lot to offer and it will only continue to build on that.
Favorite Kevin.Murphy Product for Men
Night.Rider
Favorite Kevin.Murphy Product for Women
Smooth.Again